THE CONDITION
The primary reason people experience homelessness is because they cannot find housing they can afford.
WHO - LOCALLY
578,424 homeless people in the United States
216,197 are people in families
362,163 are individuals
84,291 are "chronically homeless"
49,933 are Veterans
WHO - GLOBALLY
100 million homeless people in world
1.6 billion living without adequate housing


THE SOLUTION

The statistics above, combined with our work over the past ten years, have informed our future. Our past client base has been part and parcel to research, development and successful construction of projects utilizing cargo containers. Their bold commitment to pursuing a "how do I want to live" life instead of the "how have I lived" mindset, has paved the way for a nationwide embracing of containers as a viable building block. We are indebted to our past clients and we'll continue to serve those who commission us to bring excellent solutions to their design challenges. The container "architectural movement" continues and we're subscribing to even greater design challenges. We have an obligation to utilize our knowledge and design prowess to improve the quality of life for as many people as possible - across the globe. Our developments and design solutions with the ubiquitous container have become the vehicle by which we pursue our vision.
We're deeply rooted in the genesis of container housing/building solutions. It's now time for us, and the containers, to fulfill a larger role on the planet. Over the next month, Logical will be introducing it's most affordable line of building solutions - high design and construction quality at an affordable price point.  Please stay tuned and if you like what you're reading, join us.
Peace,
Peter DeMaria AIA,
Architect
Our exclusive licensee in the Middle East is La Premier Building Contracting LLC 
Sheikh Zayed Road
Al Barsha 1
The Pinnacle Building
Office 505
Dubai – UAE 
The Tudor era occurred between 1485 and 1558 in England.
Here are some Tudor folk of that time: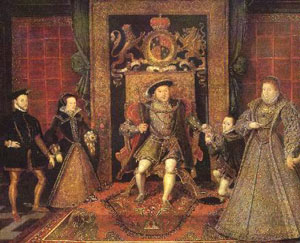 Our lives are vastly different to those who lived 500 years ago.
We use smartphones and we bathe regularly.
And yet in the 21st Century, homebuilders offer Tudor-themed homes complete with vinyl windows and remote controlled garage doors.
And people buy them. 
Contemporary Tudor homes are built using "authentic" Tudor processes; contractors stand out in the sun hammering wood together with nails - just like they did 500 years ago.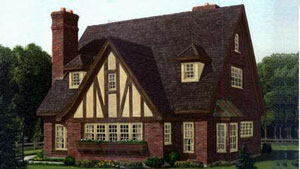 Cute?
Yes.

If you would like to be kept informed of news and developments at Logical Homes please sign up for our email list. We promise not to harass you - and we will not give your email address to anyone. We hate spam too!
On this page most companies list their telephone number, street address and maybe a map showing where they are located.
We have received so much interest in our homes that for the time being we are going to hide behind this website and direct you to this page that offers a range of Service Request forms.
This is the only way we can deal with a large volume of requests in a structured manner. Please don't take this personally - as much as we'd love for you to call us for a chat we simply cannot do that with many thousands of people. We promise if you use our contact forms we will respond in the appropriate manner. In the interim you will just have to trust us when we say that we do have a real office with chairs and telephones and even some fancy computers.
Thank you for your interest in Logical Homes. 
If you really need to see a map, we are located in Manhattan Beach, CA in the South Bay area of greater Los Angeles.